About the Festival
The Middleburg Film Festival offers four days of fantastic films in a spectacular setting, only 30 minutes from Dulles International Airport and just one hour from Washington, D.C. A carefully curated selection of narrative and documentary films will screen in an intimate theatre environment, followed by fascinating Q and A's with world-renowned filmmakers and actors. The films include festival favorites, premieres, and Academy Award contenders.
MFF 2013 kicked off with NEBRASKA with actor Bruce Dern and producers Albert Berger and Ron Yerxa in attendance. In addition to NEBRASKA, the festival line-up included films that went on to receive fourteen Oscar nominations.
Signature events include honoring a distinguished film composer with selections of the honoree's scores performed live by a 75-piece symphony orchestra accompanied by film clips. "Fine Wine and Fascinating Conversations" with noted filmmakers and actors are held at the stunning Boxwood Winery. Other events include Panel Discussions, Master Classes, farm-to-table dinners featuring local produce and wine, and fabulous parties. Festival attendees are also invited to experience the natural beauty and warm hospitality of historic Middleburg.
The festival's official filmmaker venue, Salamander Resort & Spa, is set on 340 acres of rolling hills. This year the Festival is proud to welcome Coca-Cola as its Presenting Sponsor.
"Does the Washington area really need another film festival? When it's the Middleburg Film Festival, the answer would seem to be Yes!"
(Ann Hornaday, Washington Post)
"Middleburg Film Festival debuts with Oscar-worthy line-up"
(Yahoo News)
Who We Are
Meet the Board of Directors, Board of Advisors, and Strategic Partners - click here.
Welcome
From Sheila Johnson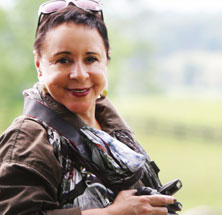 I want to personally invite you to join me this fall to see some wonderful films in a truly spectacular setting. The Middleburg Film Festival is an exciting opportunity to celebrate two of my favorite things by bringing the best in independent film right here to the town I love.
As an avid filmgoer, film producer, and member of the Sundance Institute, I've seen over and over the power of films. Movies have a rare and magical ability to inspire, to educate, to engage and entertain. They lift us up out of our everyday lives, help us see others' points of view, and build new bridges of empathy and understanding.
This festival will showcase independent films selected for their exceptional craft and creativity. These visionary films push boundaries, challenge convention, and often try things no one else has dared to dream.
And where better to host a film festival than Middleburg, Virginia, one of the most beautiful places on earth?
Middleburg has been my home for over fifteen years. I can't wait to give people from all over the world one more reason to visit this very special region. And I'm delighted that the Middleburg community will have the opportunity to experience some truly extraordinary films together.
I hope you'll mark your calendars and join me on Oct 22-25, 2015 as we kick off this year's Middleburg Film Festival.
Warmly,
Sheila C. Johnson
Official Festival Venues

All of the festival venues are within a short distance of one another. Read more »

Getting There
Middleburg, Virginia is conveniently located 30 minutes from Dulles
International Airport (IAD) and approximately one hour from our
Nation's Capital.
For information on Car Rentals at Dulles Airport, visit
http://www.metwashairports.com/dulles/791.htm
Taxis are readily available at the airport. For more information, visit: http://www.dullesfly.com/ The cost of a taxi from Dulles Airport to Middleburg is approximately $50.
There will also be limited shuttle service provided between the airport and Middleburg. Check back closer to the festival for exact times.
Click here for more information about Middleburg including places to stay.